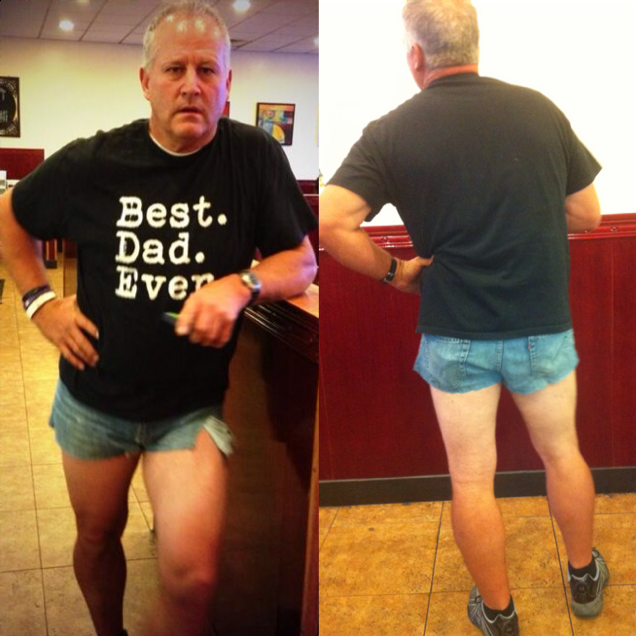 Designed to help to lift you out of that inevitable mid-afternoon lull with Aussie Bodies LO CARB bars, the smart snack when sugar cravings kick in. All opinions expressed by the author are 100% authentic and written in their own words.
Who wears short shorts?
Dad. We're not sure about parents who humiliate their kid in public to get their point across (see the mum who publicly shamed her tween for twerking). But humiliating yourself – hilariously – to prove a point? You win parenting.
Scott Mackintosh, husband of blogger Becky Mackintosh, has rules for the way his kids dress: "No mid-drift or low-cut shirts, no short-shorts," according to his wife's blog. But one day his teen daughter came downstairs to go out to dinner wearing very short shorts (a la Miley Cyrus), and refused to change. So he decided to go all Billy Ray on her.
"Instead of turning her response and disrespectful attitude into a major battle, I decided to make a 'small' statement on how her short-shorts aren't as 'cute' as she thinks," he wrote.
So the Utah dad cut up a pair of jeans to fashion his own booty shorts, complete with dangling pockets, leaving only about an inch of material below the crotch. When he came downstairs, his kids were playing on their phones and didn't even notice. So he was forced to up the ante and went out to dinner, mini-golf, and even for milkshakes with the family wearing the cut-offs, as people pointed, stared and took pictures.
Although Mackintosh writes that social media has simplified the story to give it a Hallmark-y ending, saying she's learned her lesson, the upshot is less tidy than that (because real-life parenting always is). "She's dressed a little bit better," he told KSL-TV. But he's still glad he did it, because "my daughter will always know that her dad loves her and cares about her enough to make a fool of himself."
And if that's not awesome parenting, we don't know what is.
iVillage gives you energy for your brain and Aussie Bodies LO CARB bars bring you guilt-free satisfaction for your sweet tooth!
Click here to grab your FREE Aussie Bodies LO CARB bar – with over 36,000 to giveaway!